AT&T Phone Number
Calling AT&T customer service faster by GetHuman
Current Wait:
48 minutos
&nbsp
(13m avg)
Hours: Mon-Fri 8am-6pm EST; best time to call: 8:15am
Get targeted help: Tell us the issue so we get you to right rep, offer relevant tips, reminders & follow-up!
Get to a live person fastest:
Ingrese el número de teléfono o presione 1, luego 3, luego 7, luego 0, luego 4, luego 2, luego 1 O presione 0 # cada vez que solicite su número de teléfono
Reasons customers like you called recently
Is the same service plans and pricing offered at you brick and mortar locations as woul...
I want to start receiving a paper bill again. Thank you
I already wrote to you about *** *** **** please get the phone to work at *** North Daw...
My issue is the phone * *** *** **** that I bought in Vermont and was told that accord...
Hello, how can I racover my very old account(I used it to register in Steam in ****)? I...
Redelivery of a return package
I was guaranteed two gift cards when I signed up for internet services and then another...
I'm on DO NOT CALL LIST. My number is ***-***-****. I get DAILY calls to this number. I...
I ordered ATT tv and I've been waiting on my Boxes for over a week, and was wondering t...
Can not make calls or *G data connection.
There are vines and tree's that have fallen on the lines and is causing the wires to bu...
I was wondering if I could get six months worth of ****'s texts printed and mailed to m...
I cannot access my att.net email which I had with my old Sprint phone. I now have a new...
Every time I call ATT customer support, I get passed around to several different depart...
I want help with my at&t services. I do not remember my username or pin number. Thank y...
See more recent reasons for calling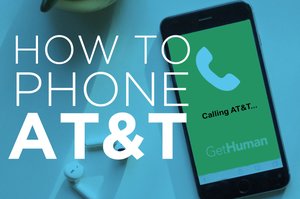 Our Editor's Notes on AT&T's Phone-Based Customer Care
AT&T is a telecommunications, home security, Internet and cable TV provider. As the largest telecommunications company in the world, AT&T maintains a comprehensive customer support system to meet its customer's needs. Many customers strongly prefer to contact AT&T over the phone for a direct conversation with a customer service representative.
Why do People Call AT&T Customer Service?
People call AT&T for many reasons, including:
Starting, changing or canceling services
Purchasing and upgrading devices
Technical support
Scheduling service and installation visits
Learning how to return or drop off devices and equipment
Contacting the Right Division
AT&T offers multiple services, including mobile and landline phone service, security, Internet service, and both satellite and cable television. Some of these services are offered under specific brand names such as DirecTV and U-Verse. When contacting AT&T customer service by phone, make sure that you are calling the number for the division or service you need help with.
Another thing to consider when locating phone numbers for AT&T is that some divisions have different numbers for different types of services.
For example, there may be separate toll-free numbers for new service requests, billing questions and technical support. Each number may also be taking calls during different hours. Checking this information before calling can save you time and frustration.
Tips for Calling AT&T Customer Service
Before calling AT&T customer support, make sure you have your account number handy. You can find it on your bill or via your dashboard on AT&T's website.
Each AT&T service or division has different call center hours, so it's a good idea to check ahead of time so that you know when to call.
AT&T does offer phone support for people with disabilities, including TTY calling for those who are deaf or hearing impaired.
How do People Feel About AT&T Customer Service Calls?
There are numerous reports online from people who are unhappy with AT&T phone-based customer service. Complaints range from long wait times to inaccurate information provided by a representative to promises not kept. There are, however, many other reports from consumers who are pleased with the customer care that they've received from AT&T representatives.
Media Cases
One newspaper documented a case in which a long-time customer of AT&T asked for an extension on his auto-pay due to a family illness that had depleted his checking account. An AT&T phone representative granted the extension, but the account was still charged, resulting in large fees.
In another case, a customer relocated and wanted to transfer her AT&T services. AT&T responded by canceling her current loyalty points, sending her multiple bills for services instead of one consolidated bill. She ended up spending hours of her time on hold with AT&T phone-based customer service, and her issues still were not resolved despite many promises.
What Issues Can AT&T Customer Service Resolve Over the Phone?
AT&T can resolve many consumer issues over the phone, including technical support, billing issues, selecting different packages and starting or ending service. Issues that aren't so easily resolved via phone include problems with malfunctioning and aged equipment and devices. These items will have to be brought or shipped to a service center for repair or replacement.
What Can I do if I am Dissatisfied with AT&T Phone-Based Customer Service?
If you've hung up the phone after a call to AT&T customer service and feel demoralized because your case was not resolved, don't fret. There are other ways off addressing your concerns.
You might first want to write down what happened during your last call. Then, write out a description of your problem and your desired resolution. Having this information in writing can help you explain your situation to other customer service specialists when you talk to them.
From there, consider these options for addressing your concerns:
Try calling AT&T back: In some cases, the training and experience of a customer representative can make a huge difference when it comes to customer satisfaction. If your first call didn't resolve the matter, dial AT&T again. A different representative may be better able to understand your concerns and get your situation resolved.
Consider live chat: AT&T offers live chat through its website and app. If you feel that you express yourself better in writing, or want a written record of your conversation with a customer service representative, live chat might be your best option.
Reach out over social media: AT&T has accounts on several social media platforms. You can connect with a specialist who can research your issue and help you get matters sorted out. As with live chat, you'll also have a record of your conversation, which may be useful if you have to escalate your case.
Visit an AT&T retail store: A face-to-face consultation with a store associate may resolve your issue. In addition, visiting a store may be the best way to get hands-on technical support for equipment or devices.
Customer Number 800-331-0500 - by the Numbers
Número de teléfono para marcar800-331-0500
Devolución de llamada disponibleSI
Llamada atendida por una persona realSI
Departamento al que llamasServicio al cliente y cuentas comerciales
Horario del centro de llamadasLun-vie 8 am-6pm EST
El mejor momento para marcar8:15 am
Navega por el laberinto del teléfono a un humanoIngrese el número de teléfono o presione 1, luego 3, luego 7, luego 0, luego 4, luego 2, luego 1 O presione 0 # cada vez que solicite su número de teléfono
Espera promedio
Espera actual48
Rango (entre números de teléfono)1
Rango (general)1
Métodos alternativosteléfono, correo electrónico, facebook, web, twitter
Calidad de la comunicación34%
Calidad de la ayuda31%
Votos de los clientes48,676
Información actualizada por última vezSun Apr 18 2021 10:00:00 GMT+0000 (Coordinated Universal Time)
AT&T's Best Toll-Free/800 Customer Phone Number
Este es el mejor número de teléfono de AT&T, la espera actual en espera en tiempo real y las herramientas para saltar directamente a través de esas líneas telefónicas para llegar directamente a un agente AT&T. Este número de teléfono es el mejor número de teléfono de AT&T porque 220,254 clientes como usted usaron esta información de contacto durante los últimos 18 meses y nos dieron su opinión. Los problemas comunes abordados por la unidad de atención al cliente que responde las llamadas al 800-331-0500 incluyen Cancel Service, Service Outage, Dispute a Charge, Device Support, Change Service y otros problemas de servicio al cliente. El AT&T centro de llamadas al que llama tiene empleados de California, Florida, Georgia, Idaho, Iowa, Louisiana, Missouri, Montana, Oklahoma, Philippines, Texas y está abierto Mon-Fri 8am-6pm EST según los clientes. En total, AT&T tiene 19 números de teléfono. No siempre está claro cuál es la mejor manera de hablar con AT&T representantes, por lo que comenzamos a recopilar esta información basada en sugerencias de la comunidad de clientes. Siga compartiendo sus experiencias para que podamos seguir mejorando este recurso gratuito.
Contacting AT&T - by phone or otherwise
Si bien 800-331-0500 es el mejor número gratuito de AT&T, existen 23 formas totales de comunicarse con ellos. La siguiente mejor manera de hablar con su equipo de atención al cliente, de acuerdo con otros AT&T clientes, es llamando a su 800-756-0134 número de teléfono para su nuevos clientes departamento. Además de llamar, la siguiente opción favorita para los clientes que buscan ayuda es a través de 800-756-0134 para nuevos clientes. Si cree que esta información es inexacta o conoce otras formas de comunicarse con AT&T, infórmenos para que podamos compartirla con otros clientes. And you can click here if you want to compare all the contact information we've gathered for AT&T.
What is GetHuman's Relationship to AT&T?
In short, the two companies are not related. GetHuman builds free tools and shares information amongst customers of companies like AT&T. For large companies that includes tools such as our GetHuman Phone, which allows you to call a company but skip the part where you wait on the line listening to their call technology music. We've created these shortcuts and apps to try to help customers like you (and ourselves!) navigate the messy phone menus, hold times, and confusion with customer service, especially with larger companies. And as long as you keep sharing it with your friends and loved ones, we'll keep doing it.